The way presenters design their pitches has evolved. As Microsoft PowerPoint launches new features that boast of contemporary design and high-end technology, users become more aggressive and innovative in creating their slides. Pitches have become more promising, ultimately helping businesses attain their goals.
Despite the progression, some presenters still fail to provide a visually-appealing pitch that can entice their audiences. Ugly typefaces, tacky transitions, and pixelated images continue to surface, making a presentation look horrible, or worse, unprofessional.
Fortunately, with a little imagination and research, bad presentation design choices can be improved. One can still live up to the standards of modern design through good old PowerPoint elements that have seemed to fade away over time. Challenge the world of presentation design and project an appealing PowerPoint by trying out the following design tips.

Clip Art: Tweak It
Clip art is dead. In December 2014, Microsoft retired its clip art gallery and gradually added several PowerPoint features such as Shapes, Icons, and Online Pictures. Gone are the days of cartoons in presentations as designers and presenters now prefer custom images when visualizing a point. Apart from communicating a message more clearly, the dawn of vectors and photographs allowed PowerPoint users to create a more personable and contemporary-looking deck.
Many websites offer free and editable stock images, which you can download without signing up. Modify them according to your need and make sure that they suit your presentation's message. Wrong use of stock photography can show your lack of authenticity and creativity, and that can ruin the overall look of your presentation design.
If you are, however, keener on using objects and illustrations, PowerPoint's Shapes and Icons are a great way to add more life to your presentation. Choose from a broad range of predesigned elements by clicking "Insert" in PowerPoint's Home tab, which now has the "Screenshot" option as well.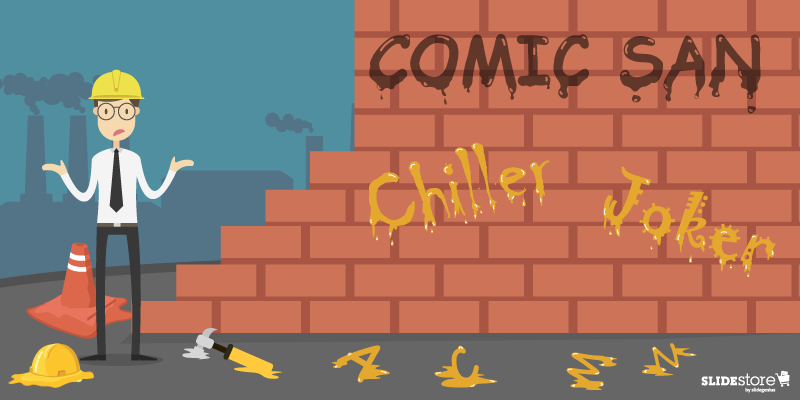 Comic Sans: Imitate It
People dislike Comic Sans so much that a petition was put up to ban it. The website Comic Sans Criminal, however, explained that all fonts have a personality and a purpose and that using Comic Sans is only appropriate when:
your audience is under 11 years old;
you're designing a comic; or
your audience is dyslexic and has stated that they prefer the typeface.
Considering its purpose, Comic Sans isn't that bad at all. In fact, a number of educators and designers prefer its "true a" form—or an "a" with a circle and a stick—since it is known as the basic model of the letter.
If you're looking for a "true a" as well, use Comic Sans alternatives instead. HVD Comic Serif is a close substitute if you're in need of an easygoing, comical typeface. For corporate presentations, Hattori Hanzo Light Italic is a good pick.
Play around with fonts and typefaces to find one that suits your brand and personal style. Keep in mind that two or three choices are enough. Overdoing it may risk the aesthetic of your slides, making your content hard to read and understand.

Bullet Points: Limit Your Use
Bullet points are essential in keeping PowerPoint presentations organized. However, when used inappropriately, they can be detrimental to presentation design and its effectiveness. According to Brainshark, bullet points are ideal when updating a previous discussion or explaining simple points. Apart from allowing your audience to scan your content more easily, these symbols allow them to concentrate on other parts of your speech.
However, to quote Ray Bradbury, "Too much of anything isn't good for anyone." Having too many bullets in your presentation doesn't only make your content look disorganized but also leads your audience away from your point. To deliver an impactful speech, develop a great script that you can match with bullets and attention-grabbing visuals. Maintain a balance between the two to avoid a cluttered presentation.
You can also use headlines to construct your ideas. Headlines provide a snappy feel that engages and informs your audience. Simplify your points to guarantee the attention of your audience and the success of your pitch.
Good ol' PowerPoint design elements may not be the rave today, but they can make a comeback in your presentation through creativity and resourcefulness. Go back to the basics of presentation design and allow yourself to innovate. Use alternatives while keeping your message and audience in mind. With this, you'll be on your way to delivering a one-of-a-kind speech that your audience will remember.

Resources:
Belknap, Leslie. "Why Bullet Points Kill Presentations." Ethos3. April 7, 2015. www.ethos3.com/2015/04/why-bullet-points-kill-presentations
Crerar, Paula. "PowerPoint Bullet Points: Do We Need Them?" Brainshark. January 24, 2012. www.brainshark.com/ideas-blog/2012/January/powerpoint-bullet-points-do-we-need-them
Gabrielle, Bruce. "PowerPoint Clip Art Is Dead. Now What?" Speaking PPT. February 16, 2015. speakingppt.com/2015/02/16/clip-art-dead
"6 Alternatives to Comic Sans (With a True 'A'). Keri-lee Beasley. March 14, 2015. kerileebeasley.com/2015/03/14/6-alternatives-to-comic-sans-with-a-true-a